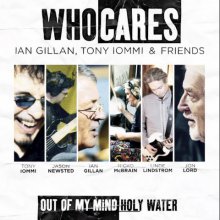 Ian Gillan nem először fog össze Tony Iommival, hogy művészetüket karitatív célok érdekében hasznosítsák. Ezúttal is csatasorba állították Mr. Hammondot, azaz Jon Lordot, a dobok mögött Nicko McBrain vigyorog, gitáron a HIM-ből Mikko Lindström ügyködik, Jason Newstead pedig vastag húrokat penget. Két dal 12 percben, digitálisan, 7 inches vinilen és CD-n – egy örményországi városka iskolásainak az életre való tudás megszerzésének esélye. Két nagyon jó dal…
A közös munka hátteréről és a kiadás körülményeiről angolul a www.gillan.com-on, magyarul a Shock! magazin portálján (http://www.shockmagazin.hu/portal/hirek/ujabb_kozos_lemezt_tervez_tony_iommi_es_ian_gillan) olvashatsz.
Az Out Of My Mind a Metallica fekete albumát idézve indít basszussal, ezzel hihetetlen várakozást kelt önmaga iránt, belép a gitár, majd a billentyűs hangszer is, finoman a háttérben maradva – riffközpontú rockdal-szerkezet. Gillan kissé fátyolos, de könnyen azonosítható hangja, majd az átkötő Lord-védjegyű Hammondja a Deep Purple hangzásvilága felé tolja el a dalt, ám a gitár-basszus erőteljesebb kombója feszültséggel teli mindig visszahúzza: afféle 70-es évekbeli súlyos doom-koncentrátum születik a fülünk hallatára, amely némi vokalizálás után jóféle szólóba torkollik. A tetőpontot a visszatérő refrén követi, amely le is zárja ezt az önidentikus és nagyszerű tételt. A megírás jelenében még nem hallgattam újra a Born Again lemezt, de inkább a jövőnek szólóan állíthatom: ilyen kooperációjú (egyszerre Sabbath, egyszerre Purple, nagy adag modernizmus, kontra 60-70-es évekbeli dallamvezetés, progresszió) dalokból, ilyen színvonalon egy albumnyit is meghallgatnék.
Keleti hangszeres felvezetéssel kezdődik a Holy Water, majd iommis riffelés, párhuzamosan a Hammonddal, ultradallamos Gillan–gitár összjáték, háttérben a keleti fúvóshangszer-kíséret. Talán kevésbé egyedülálló kísérlet az occidentális és az orientális zenei kultúrjavak együttes felhasználása felől nézve, de szintén kellemes, élvezetet okozó hallgatnivaló. Nem kicsit Bruce Dickinson legutóbbi szólólemezének hangulati elemeit véltem feltalálni a dalban, sőt, a fejemben Gillan hangja helyett már Dickinson erőteljesebb, bár hasonló orgánuma szólt. Efféle infratextuális beíródás persze annak ismeretében, hogy Dickinson részt vett a Rock Aid Armenia 20 évvel korábbi Smoke On The Water újraértelmezésében, talán nem véletlen.
Ha lenne lemezjátszóm, biztos beszerezném az 1000 példányban megjelenő vinilváltozat egyikét! De értékes zenei pillanatok részesei lehetünk a tárgy "birtoklása" nélkül is…
RIP
WhoCares: Out Of My Mind / Holy Water
(earMUSIC , 2011)
12 perc